How to Find Perfect Moissanite Wedding Sets?
Got a case of spring fever? The weather is warmer, days are longer, and love is definitely in the air – we're all looking forward to this season of growth. If you're planning to pop the question soon, spring is a great time. With a little planning and a lot of love, you're one step closer to spending your lives together!
When you start shopping for wedding sets, consider Moissanite! This stunning gemstone is really changing the fine jewelry industry as a popular choice over diamonds.
Traditionally, diamonds are the popular choice when it comes to engagement rings and wedding band sets, but Moissanite engagement rings are becoming increasingly popular among many engagement couples. At TwoBirch, we see couples everyday choose Moissanite engagement wedding sets over diamond rings.

Why Opt for Moissanite?
Moissanite wedding rings offer an equally exquisite feel to its diamond counterpart, but at a fraction of the price.
With a high score of brilliance – visually, Moissanites and diamonds are almost identical. It takes a skilled diamond professional to accurately tell the difference between a diamond ring and a Moissanite ring with the naked eye.
Like any conversations around engagement and wedding planning, cost is understandably a big consideration factor. A diamond compared to a similar Moissanite begins at a $1,500 price difference. A one carat diamond can cost anywhere from $2,000-$20,000, and Moissanite of the same size will be $400-$600.
Opting for a beautiful Moissanite engagement ring can save you thousands of dollars for a ring of the same size, shape and similar visual properties as its diamond counterpart.
What is Moissanite?
Originally found by Henri Moissan, Moissanite stones are very rare in their naturally occurring form. Because of this, these stunning stones are lab grown, ensuring ethical sourcing, low environmental impact, and a lower cost!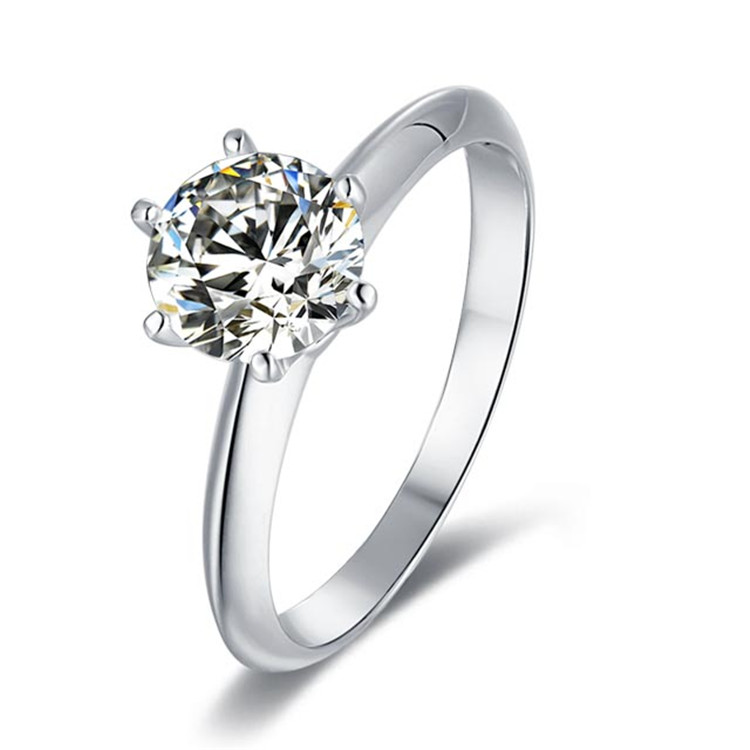 How to Find the Perfect Moissanite Wedding Rings?
Because of the rise in popularity, many national retailers, small jewelry boutiques, and online jewelry stores offer Moissanite bridal sets. With a little research, you're sure to find the perfect Moissanite wedding set you've been searching for.
Opting to shop online can also save you money. There are many safe, reliable, and affordable online fine jewelry experts. Due to the lack of overhead costs compared to physical stores, many online retailers can offer the same quality pieces at a lower price. Definitely shop around before making your purchase.
Our Favorite Spring Moissanite Wedding Sets
At TwoBirch, we have a few of our favorite, most-popular Moissanite wedding rings for the spring season.
1 Ct. Moissanite Engagement Ring with CZ Baguette Side Stones
A simple look, slightly elevated! This engagement ring is made in solid sterling silver plated in platinum to help protect against tarnish. It comes in sizes 5 to 9. The center stone is a 1 carat Moissanite and features two (2) baguette cut cubic zirconia.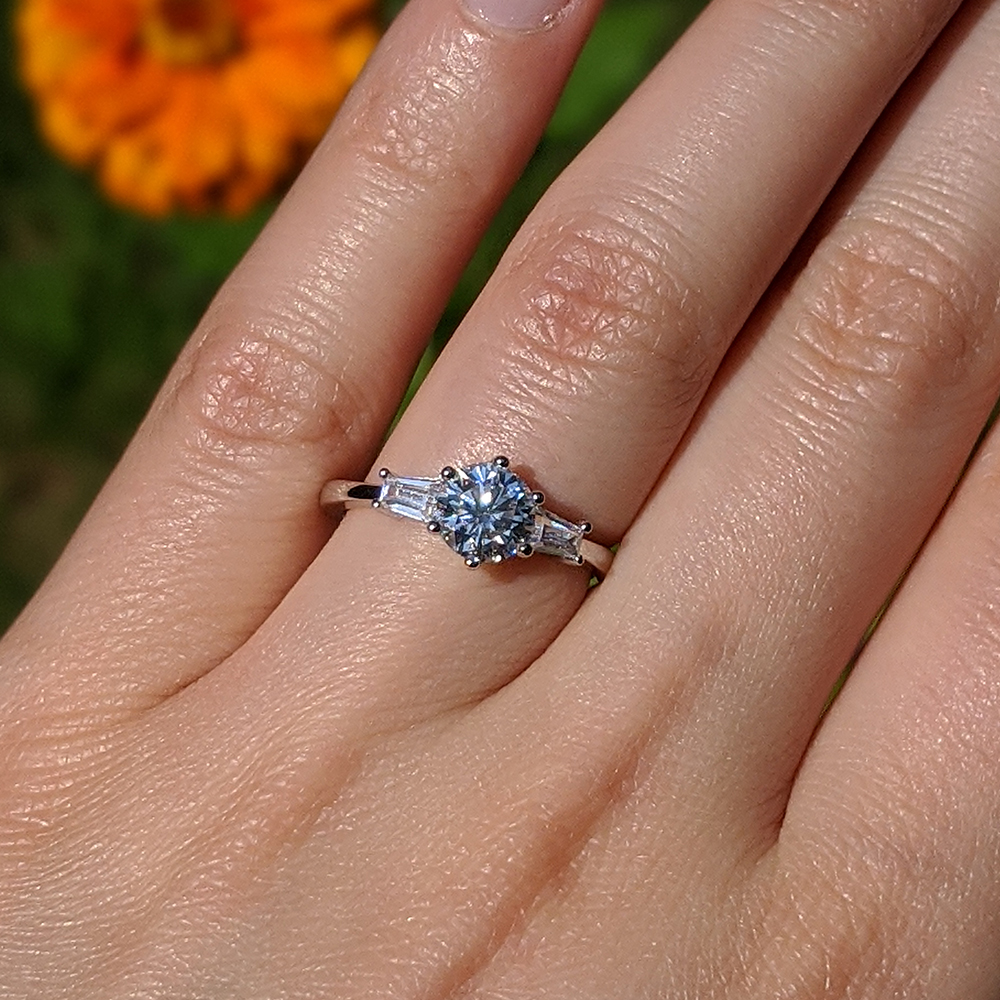 1.5 Ct. Round Moissanite Solitaire Engagement ring with Six Prongs
For a little extra sparkle, this engagement ring is made in solid sterling silver plated in platinum to help protect against tarnish. It comes in sizes 5 to 9. The center stone is a 1 .5 carat Moissanite and features stunning classic six prong setting.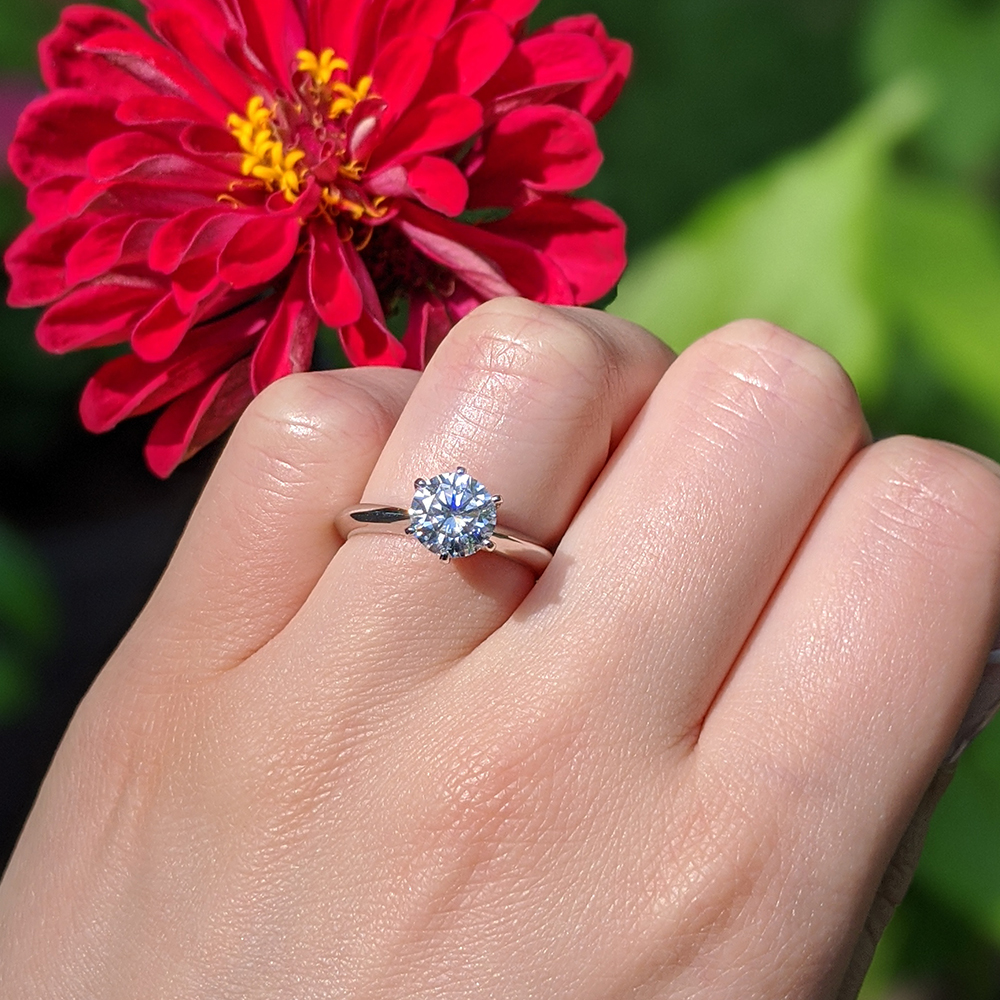 Dainty Wedding Bands
These elegant, pronged wedding bands are lined with beautiful Moissanites – the perfect complimentary Moissanite wedding band for your engagement ring!
We can't wait to see your Moissanite wedding sets. Tag us on Instagram @twobirch! To view more Moissanite jewelry for sale, visit our website.
---
---
---